How To Get Help Paying Tickets In Texas
Things really are bigger in Texas – especially the cost of speeding tickets. Speeding tickets in Texas, even going over 11 miles per hour over the limit, can run up to $230. Over 16 miles per hour over? That'll cost you $250. Over 20 mph over? That'll cost you $305. It's no wonder then that many need help paying tickets in Texas.
In 2020, there were over 576,000 citation stops across the state, with over half occurring on the highway. If you've been one of the many unlucky drivers who need help paying tickets in Texas, here are some of your valid options to get your traffic tickets paid in a timely manner.
Use These Options To Get Help Paying Tickets
See If You Are Eligible For A Deferred Disposition
If you find yourself needing to go to court to resolve your case, you may be able to get a deferred disposition. This is an agreement in Texas between the court and yourself that if you finish the deferred disposition requirements, the case will be dismissed. That means your help paying tickets in Texas results in you not having to worry about the fine.
The judge will order certain requirements to complete the disposition and you will then have to show proof that you have followed what's outlined. It's the judge's call whether a deferred disposition is an option, so be sure to ask the judge while you're in court. Or you can check with the court clerk before your court appearance to see if it's a possibility.
Don't Just Refuse To Pay
Never ignore traffic tickets, even if you know you can't pay or need help paying. If you can't afford the fine, at least make a court appearance because otherwise you may be arrested or get fined even more for not appearing. Instead, head to court on your date and show that you actually are not able to pay.
In Texas, judges are required to ask if you are able to pay a certain cost or fine when you are sentenced. If they don't ask you, tell the judge that you cannot pay and tell them why even if the reason is just that you don't have the cash. Bring evidence along with you that shows that you cannot pay for the speeding tickets.
If the judge agrees that you are not able to pay, they should walk you through some alternatives. This could include a full payment at a later date (usually a month later), a payment plan such as monthly installments, working off the fine through community service, a fee waiver, or a fine reduction to an amount you can afford.
Take Advantage Of A Ticket Forgiveness Or Amnesty Program
When you are issued speeding tickets and you think you will need help paying the fine, try to find out if an amnesty program or ticket forgiveness program is an option. These programs generally are available through city governments and mostly benefit those who are low-income. There are also numerous welfare programs designed to assist low-income people and families with speeding tickets.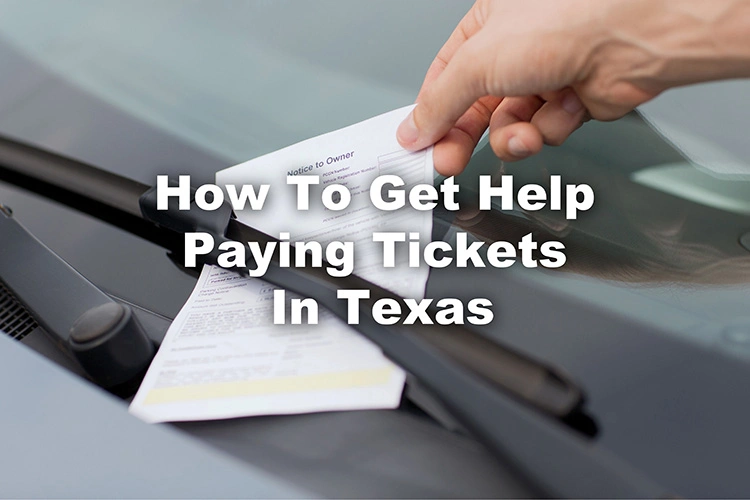 Find A Charity
If there's not an official amnesty or forgiveness program available to you, try a local charity or nonprofit. Many may help those who are low-income either cover a traffic ticket entirely or help with most of the cost. Churches have similar funds set up to help those in need, especially those who are long-time members of the church. This form of assistance may be a little harder to find since most charities focus more on providing food, shelter, or clothing to those in need.
Get Help Through Auto Title Loans
Speeding tickets and other traffic tickets can put a major dent in your savings and cause a financial emergency. One speeding ticket may mean that you will suddenly have trouble making ends meet. Auto title loans are an option for help. Auto title loans use your vehicle's title as collateral in exchange for a loan to be paid off over time.
Keep in mind they are specially designed to help with financial emergencies and not long-term, lingering financial problems. If you want to start the process, get started by filling out the short auto title loans form on our website. One of our representatives from the nearest Texas auto title loans location will give you a call to help you continue the process.
Get The Help You Need Paying Tickets In Texas
We know that even one speeding ticket can create a financial emergency for many Texans. This guide can easily get you the help you need paying tickets in Texas. And if you really need help, see how auto title loans from Texas Car Title and Payday Loan Services, Inc., can be an option for you. Fill out the online form now to get started on the process.
Note: The content provided in this article is only for informational purposes, and you should contact your financial advisor about your specific financial situation.