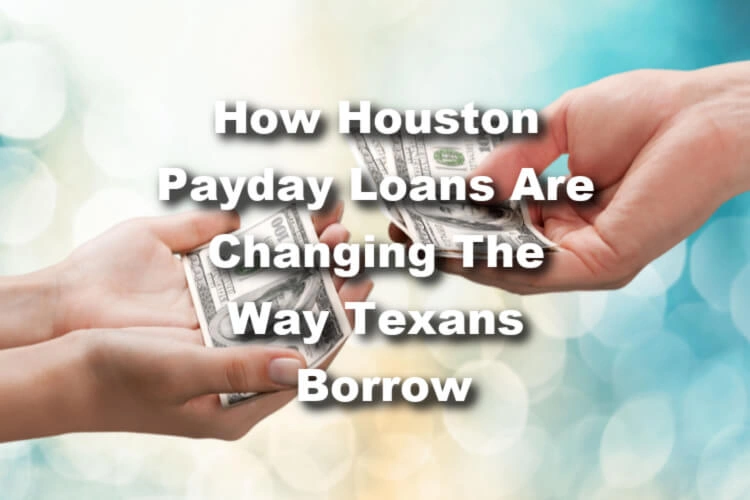 How Houston Payday Loans Are Changing The Way Texans Borrow
Where do you typically turn when you need a little bit of extra cash? And where do you turn when a financial emergency threatens your well-being and financial future?
For far too long, loans came with something of a stigma, as well as huge interest rates and difficult terms. Much was required to qualify for a loan, especially through such traditional means as banks.
If you did end up qualifying it would be for an amount that typically was below what you really needed to get significant help — and there would often be a long waiting period to get the loan you needed right away.
Times have changed, and Houston payday loans are changing the way Texans borrow and cope with financial emergencies quickly.
Payday loans in Houston, TX, offer a modern option for those to responsibly move past a pressing financial emergency and return to thriving financially. Here's how.
What Are Houston Payday Loans?
Payday loans in Houston, TX, are short-term loans offering small amounts of cash to those who qualify and are looking for assistance when facing a financial emergency.
At Texas Car Title and Payday Loan Services, Inc. you may qualify for a payday loan of up to $1,200 and it can take as little as 30 minutes to qualify. Houston payday loans are specifically designed for financial emergencies and not for help with a long-term, lingering financial issue.
Financial emergencies are sudden and unexpected — and often come with shockingly high bills. Such common examples include a trip to a hospital's emergency room, covering a necessary home or car repair, or securing last-minute but unavoidable travel. Such expenses regularly can add up to thousands of dollars.
Houston payday loans offer an option for those who need to cover an emergency expense in between paychecks. And those offered by Texas Car Title and Payday Loan Services, Inc. allow you to cover such bills quickly and seamlessly.
How Do I Qualify For Payday Loans In Houston, TX?
We make it easy at Texas Car Title and Payday Loan Services, Inc. In addition to being at least 18 years old, the only required items for a payday loan in Houston are:
A driver's license or another form of identification issued by the state.
A blank check from a checking account that is active as well as in your name.
Proof of income and ability to repay the payday loan, as well as your most recent pay stub.
Our payday loan required items are a big reason why we're changing the way Texans qualify for loans. Many traditional banks and lenders for too long tied largely prohibitive qualifications to their loans.
For example, credit that was deemed "bad," almost always led to making it extremely difficult to secure a loan, even a short-term loan for a relatively small amount of cash.
At Texas Car Title and Payday Loan Services, Inc., we encourage those with all types of credit history to pursue payday loans with us. Your credit history does not automatically disqualify you from receiving payday loans in Houston, TX, with us.
The Payday Loans Process
Another way our Houston payday loans are helping Texans borrow in a new, more effective way is how we've streamlined the qualification process.
Now you can start the payday loan process online. On our homepage fill out the short payday loans inquiry form with some basic personal information, including your name, email address, phone number, and ZIP code.
One of our friendly loan representatives from the store location nearest you will give you a quick call shortly after you submit the form.
They will discuss the next steps, which are bringing the required items to a Texas Car Title and Payday Loan Services, Inc. location, determining how much of a payday loan you qualify for, and reviewing the terms and conditions of your loan. These terms vary, but generally, the loan is to be repaid when you receive your next paycheck.
Our representative will guide you through the rest of the process and answer any questions you have about payday loans. Once you qualify and sign some basic paperwork, you get the cash you need that same day or the very next business day.
Get Started Today
Houston payday loans provide an option to address a financial emergency head-on and move on with your life quickly. Financial emergencies can happen at any time and to anyone. That's why we're here to help.
To qualify for a payday loan from Texas Car Title and Payday Loan Services, Inc. today simply start online, give us a call, or visit one of our locations today.
We understand the need to resolve a financial emergency easily and we understand that assistance can sometimes be hard to come by. That's never the case at Texas Car Title and Payday Loan Services, Inc. We're here for you.
Note: The content provided in this article is only for informational purposes, and you should contact your financial advisor about your specific financial situation.